Revolutionizing Commercial Plumbing in Sacramento, CA
By Brian on October 30, 2023
---
Introduction: The Importance of Commercial Plumbing in Sacramento, CA
In the bustling city of Sacramento, CA, where businesses flourish and life moves at a fast pace, one thing that's often overlooked is the role of commercial plumbing. Yet, it plays a crucial part in maintaining the smooth daily operations of every commercial establishment, from hospitals and restaurants to offices and malls. When a water main breaks or a sewer line blocks, it not only disrupts business activities but can also lead to potential health risks. That's why in Sacramento, CA, commercial plumbing services are not just a necessity but a vital part of maintaining a safe, healthy, and efficient business environment.
Reliable commercial plumbing services like Go Pro Plumbing ensure that businesses in Sacramento, CA run smoothly by taking care of everything from routine maintenance of water systems and drain cleaning to more complex issues like slab leaks and gas line repair. They also offer emergency services, providing immediate solutions to urgent plumbing problems.
The importance of commercial plumbing in Sacramento, CA cannot be overstated. Not only does it ensure the health and safety of employees and customers, but it also contributes to the sustainability of businesses by preventing costly damage and disruptions. Stay tuned as we delve deeper into what commercial plumbing entails and how Go Pro Plumbing is revolutionizing this essential service in Sacramento, CA.
Understanding Commercial Plumbing: What It Entails and Why It's Different
Plumbing is a critical component of any building structure, but when it comes to commercial establishments, the complexity and scale of the plumbing needs dramatically increase. But what exactly differentiates commercial plumbing from its residential and industrial counterparts? Let's break it down.
The Difference Between Commercial and Industrial Plumbing
Industrially, plumbing requirements are designed to cater to high-level water usage that includes industrial complexes, large office buildings, and other industrial applications. The complexity of these systems often requires specialist knowledge and expertise. On the other hand, commercial plumbing is geared towards businesses and establishments such as retail outlets, schools, universities, hospitals, restaurants, and care homes. While both commercial and industrial plumbing are complex, they cater to different types of buildings and business operations.
What Does Commercial Mean in Plumbing?
In the world of plumbing, commercial refers to the specialized services provided to businesses and commercial establishments. Commercial plumbers are responsible for the maintenance, repair, and installation of plumbing systems in these places. This means dealing with a larger scale of plumbing issues, from multiple floors of restrooms to large-scale water supply systems, and even specific industry requirements like food-grade pipework in restaurants or medical-grade systems in hospitals.
The Role of a Commercial Pipe in Plumbing
A commercial pipe, also known as a commercial pipeline, is a strategic tool in understanding sales opportunities and estimating projected revenues. Although not directly related to the physical aspect of commercial plumbing, the pipeline is an essential business concept that helps plumbing companies manage their projects and foresee their business growth.
The Contrast Between Commercial and Domestic Plumbing
While both commercial and domestic plumbing involve the maintenance and repair of water and drainage systems, the scale and complexity of the tasks differ significantly. Domestic plumbing primarily focuses on residential buildings, dealing with everyday home plumbing issues like leaky faucets or blocked drains. In contrast, commercial plumbing covers a broader scope, dealing with complex plumbing systems in commercial buildings and facing unique challenges, such as maintaining the plumbing for high-usage restrooms in a large office building or managing the water supply for a busy restaurant.
Understanding these distinctions is crucial in choosing the right plumbing services for your needs. As we move forward, we'll delve deeper into how Go Pro Plumbing is revolutionizing commercial plumbing services in Sacramento, CA.
Go Pro Plumbing: Revolutionizing Commercial Plumbing in Sacramento, CA
As we traverse the dynamic landscape of commercial plumbing, a name that stands out in Sacramento, CA is Go Pro Plumbing. A family-run business with around four decades of experience, it has carved a niche for itself by providing top-quality and affordable services that cater to the unique needs of both homeowners and business owners in Northern California.
An Overview of Go Pro Plumbing Services
Go Pro Plumbing offers a comprehensive suite of services that span from routine maintenance to emergency repairs, addressing the full spectrum of commercial and residential plumbing needs. Whether it is a stubborn clog in your drain, a leaking pipe, a faulty water recirculation pump, or a need for water conservation solutions, Go Pro Plumbing's team of experienced plumbers is equipped to handle it all.
Specifically, for commercial establishments, they offer services that include commercial drain cleaning, water line repair, gas leak repair, and re-piping services. Understanding the unique requirements and the operational criticality of commercial plumbing systems, they are dedicated to providing reliable, effective, and timely solutions.
In addition to these, Go Pro Plumbing also offers specialized services like water heater repairs and installations, toilet repairs and replacements, and drain cleaning services. These are designed to address specific issues that can potentially disrupt your business operations, ensuring that your plumbing system is always performing at its peak.
Go Pro Plumbing's Unique Selling Proposition: Outstanding Customer Service and Same-Day Service
What sets Go Pro Plumbing apart is not just their wide range of services but their unyielding commitment to customer satisfaction. They believe in the art of customer service, keeping clients informed at every step, and ensuring that their team of courteous professionals promptly and efficiently resolve any plumbing issues.
Understanding the unpredictability of plumbing issues and the inconvenience they can cause, Go Pro Plumbing offers same-day services. This means that any plumbing emergencies that arise are addressed as soon as possible, minimizing disruption to your business operations.
In essence, Go Pro Plumbing isn't just a service provider; it's a partner that guarantees prompt, reliable, and affordable plumbing solutions right when you need them. Their commitment to quality, affordability, and customer satisfaction is what makes them a game-changer in the commercial plumbing sector in Sacramento, CA.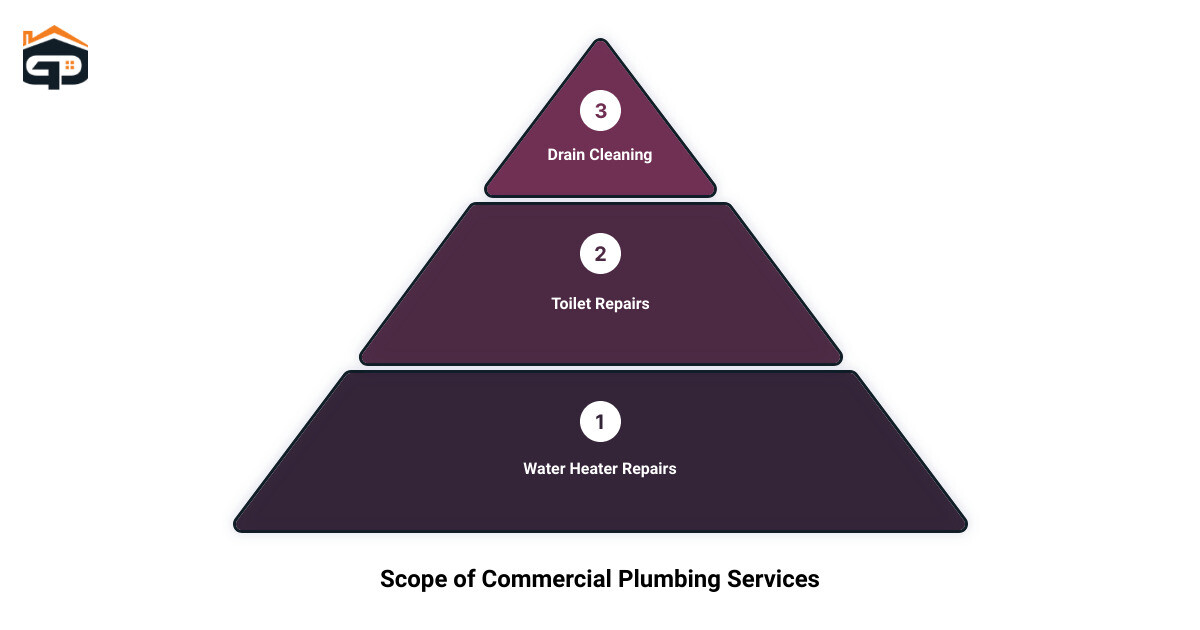 The Scope of Commercial Plumbing Services in Sacramento, CA
In the bustling city of Sacramento, commercial plumbing issues can cause significant disruption. At Go Pro Plumbing, they understand this. That's why they offer a comprehensive range of services. From water heater repairs to toilet fixes and drain cleaning, their experienced plumbers are equipped to handle it all.
Water Heater Repairs: Ensuring Continuous Hot Water Supply
Nothing can bring commercial operations to a halt faster than a malfunctioning water heater. Whether it's a restaurant needing hot water for kitchen operations, or an office building requiring warm water for comfort, the importance of a properly functioning water heater cannot be overstated. Go Pro Plumbing offers expert water heater repair and replacement services. Their professional plumbers have the necessary expertise to diagnose and fix any water heater issues promptly and effectively.
Toilet Repairs: Maintaining Hygiene and Comfort in Commercial Establishments
A functioning toilet is a basic necessity in any commercial establishment. A broken toilet can lead to discomfort, disrupt normal operations, and even pose health risks. Go Pro Plumbing's expert team provides efficient toilet repair services, ensuring that your commercial establishment maintains optimal hygiene and comfort for both employees and customers.
Drain Cleaning: Preventing Blockages and Ensuring Smooth Operations
Clogged drains can lead to serious problems, including foul odors, water backup, and potential structural damage. These issues can disrupt business operations and create a negative impression on customers. Go Pro Plumbing offers professional drain cleaning services, using the latest techniques and equipment to clear blockages and prevent future clogs. They ensure your drains remain unclogged and your business operations continue smoothly.
In summary, Go Pro Plumbing is equipped to handle all aspects of commercial plumbing in Sacramento, CA. Whether it's repairing a faulty water heater, fixing a broken toilet, or cleaning a clogged drain, their team of professional plumbers ensures quick and effective solutions to keep your business running smoothly.
Why Choose Go Pro Plumbing for Your Commercial Plumbing Needs in Sacramento, CA
Experiencing plumbing issues can be a real headache, especially for business owners. It disrupts your operations and can even lead to loss of revenue. That's why it's essential to have a reliable commercial plumbing service you can trust. When it comes to commercial plumbing in Sacramento, CA, Go Pro Plumbing stands out as the ideal choice for many reasons.
Commitment to Customer Satisfaction: Prioritizing Your Needs
Go Pro Plumbing sets itself apart through its unwavering commitment to customer satisfaction. They understand that every business has unique needs and challenges when it comes to plumbing. Their team of professionals prioritizes your needs, providing personalized solutions tailored to your specific situation. They value transparency and fairness in pricing, ensuring that you receive top-notch service without hidden costs or surprise fees. Their mission is to exceed your expectations, not just meet them.
Same-Day Service: Addressing Your Plumbing Concerns Promptly
One of the key features that set Go Pro Plumbing apart from the competition is their same-day service. When you're dealing with a plumbing emergency, waiting around for a solution is not an option. That's why Go Pro Plumbing is dedicated to providing prompt and reliable service, addressing your plumbing concerns as soon as possible. They strive to deliver same-day services whenever possible, ensuring that your business operations are not left in a lurch.
Expertise and Experience: Delivering High-Quality Plumbing Solutions
Go Pro Plumbing boasts a team of highly skilled and experienced professionals. Their expertise is critical in diagnosing and fixing plumbing problems effectively and efficiently. They understand that improper fixes can lead to more issues down the line, which is why they ensure every job is done right the first time. Whether it's a simple drain cleaning or a complex water line repair, they have the know-how to deliver high-quality solutions that last.
Choosing Go Pro Plumbing for your commercial plumbing needs in Sacramento, CA means investing not just in a solution to your current problem, but in a partnership that puts your peace of mind as a top priority. With their commitment to customer satisfaction, same-day service, and extensive expertise, you can rest assured that your business's plumbing system is in the best hands.
Conclusion: Your Trusted Partner for Commercial Plumbing in Sacramento, CA
In the bustling city of Sacramento, CA, businesses can't afford the downtime and inconvenience that plumbing issues can bring. That's where Go Pro Plumbing steps in, revolutionizing commercial plumbing in Sacramento, CA with their top-notch, affordable services. Whether it's a water heater repair, drain cleaning, or a sudden plumbing emergency, Go Pro Plumbing is committed to delivering prompt, reliable, and high-quality solutions to keep your business operations smooth and uninterrupted.
Go Pro Plumbing is not just a service provider – they're a trusted partner. They understand the unique challenges and requirements of commercial plumbing. Their team of licensed and experienced plumbers are not only equipped with the latest tools and techniques, but they also understand the importance of customer satisfaction and timely response.
What sets Go Pro Plumbing apart is their unwavering commitment to their clients. Their goal is not just to solve your immediate plumbing issues but to provide a service that exceeds your expectations. They believe in building long-term relationships with their clients, underpinned by trust, reliability, and superior service. Their high ratings and glowing testimonials from satisfied customers attest to their dedication and performance.
Remember, when it comes to commercial plumbing in Sacramento, CA, you need a partner that understands your needs, provides high-quality services, and responds quickly to your calls. And Go Pro Plumbing checks all these boxes.
So, don't let plumbing issues disrupt your business. Instead, entrust your plumbing needs to Go Pro Plumbing, and experience the peace of mind that comes from knowing you're in safe, reliable hands. With just one phone call, you can step closer to a hassle-free, efficient, and affordable plumbing solution. Go Pro Plumbing – your trusted partner for commercial plumbing in Sacramento, CA.