Find Trusted Plumbers in Rancho Cordova, CA: Contact our Reliable Phone Number Today!
By Brian on October 28, 2023
---
Introduction
Brief Overview of the Importance of Reliable Plumbing Services
When the unexpected occurs, fast and reliable plumbing services become a lifeline. There's nothing quite as disruptive to daily life as a plumbing issue – be it a leaky faucet that drips incessantly, a clogged drain that brings household chores to a standstill, or a faulty water heater that leaves you with a cold shower on a winter morning. These issues not only cause inconvenience but can also lead to significant water waste and potential damage to your property if not addressed promptly. Hence, it's crucial to have a trusted plumbing service provider on speed dial.
Introduction to Go Pro Plumbing
For residents and businesses in Northern California, particularly in Rancho Cordova, Go Pro Plumbing stands out as a trusted choice for all plumbing needs. Established with the commitment to provide top-notch service, this company offers a comprehensive range of residential and commercial plumbing services, ready to tackle everything from minor leaks to major installations. With its emphasis on outstanding customer service and a guarantee for same-day service, Go Pro Plumbing ensures that your plumbing emergencies are dealt with swiftly and efficiently. This article will delve into the common plumbing issues, their solutions, and how Go Pro Plumbing can help you keep your plumbing system in excellent condition. So, if you're searching for a Rancho Cordova, CA plumber number, stay tuned!
Common Plumbing Issues and Their Solutions
From clogged drains to low water pressure, plumbing issues can disrupt your daily routine and cause significant stress. Understanding these common problems and their solutions can help you determine when it's time to call a professional.
Clogged Drains and Toilets
One of the most frequently encountered plumbing problems is a clogged drain or toilet. This is particularly common in bathrooms and kitchens, where hair, soap residue, food waste, and other debris can accumulate over time. Though chemically-based drain cleaners might seem like a quick fix, they can actually cause long-term damage to your pipes. Instead, a licensed plumber from Go Pro Plumbing can locate the clog and safely remove it without resorting to harmful chemicals.
Leaky Faucets and Pipes
Leaky faucets and pipes are not just a nuisance—they can also lead to higher water bills and potential water damage. The causes of leaks can vary, ranging from worn-out seals and washers to corrosion or more significant plumbing problems. While a small leak might seem like an easy DIY fix, it's often best to leave the job to professionals like our team at Go Pro Plumbing to avoid causing further damage.
Water Heater Issues
Water heater issues, such as inconsistent water temperature or complete loss of hot water, can be a major inconvenience. These problems might stem from a variety of reasons, including a faulty thermostat or sediment build-up in the tank. At Go Pro Plumbing, our skilled professionals can diagnose and resolve your water heater issues promptly, ensuring you have reliable access to hot water when you need it.
Low Water Pressure
Low water pressure can make simple tasks like washing dishes or showering frustratingly slow. This could be due to a variety of factors, including pipe corrosion, a faulty pressure regulator, or even a leak in your home's plumbing system. Our expert plumbers at Go Pro Plumbing can identify the cause of your low water pressure and provide a tailored solution.
Running Toilets
A running toilet can waste up to 200 gallons of water per day, leading to shockingly high water bills. Often, this issue is caused by worn-out or damaged parts in the toilet tank. Our team at Go Pro Plumbing can quickly identify and replace faulty components, ensuring your toilet operates efficiently and conserves water.
In conclusion, while these common plumbing issues can be disruptive, they don't have to ruin your day. With the right help, these problems can be quickly resolved. So, if you're in Rancho Cordova, CA and need a reliable plumber's number, remember to call Go Pro Plumbing for prompt, professional service.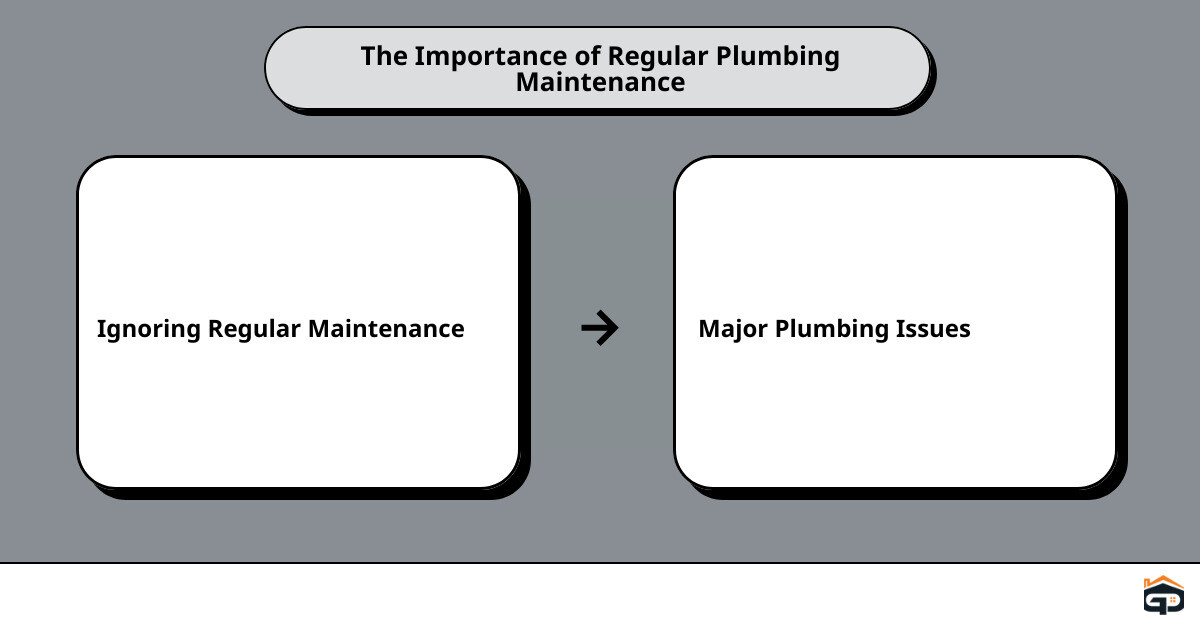 The Importance of Regular Plumbing Maintenance
Don't wait for a disaster to strike. Regular plumbing maintenance is a key factor in ensuring the smooth running of your household and preserving the value of your property. In this section, we delve into the benefits of yearly maintenance checks and how preventative action can save you from major plumbing nightmares down the line.
The Benefits of Yearly Maintenance Checks
Yearly maintenance checks are essentially the health check-ups for your home's plumbing system. A professional plumbing company like Go Pro Plumbing brings expertise and experience to these inspections, identifying potential issues before they escalate into expensive repairs.
These inspections may involve checking for leaks, examining pipes for corrosion or damage, assessing water pressure, and testing the functionality of appliances like water heaters and garbage disposals. This comprehensive service ensures that every element of your plumbing system is in top-notch condition.
A well-maintained system is less likely to encounter catastrophic issues, and even when problems do arise, they tend to be less severe and easier to fix. In essence, regular maintenance checks help you steer clear of unanticipated headaches and hefty repair bills.
How Regular Maintenance Can Prevent Major Plumbing Issues
Preventive maintenance is not just about averting disasters—it's about keeping your plumbing system in peak condition year-round. Services like drain cleaning can prevent clogs, water heater maintenance can extend the lifespan of your unit, and pipe insulation can prevent freezing during colder months.
As your home ages, its plumbing system does too. Pipes can become worn and outdated fixtures may no longer meet current efficiency standards. During regular maintenance, Go Pro Plumbing can also provide necessary plumbing system upgrades, such as installing new pipes, replacing old water heaters with more energy-efficient models, or retrofitting your home with a whole-house water filtration system.
These proactive measures can prevent a minor issue from becoming a major problem that disrupts your everyday life and costs a fortune to fix. Regular maintenance also improves your home's water efficiency, reduces your utility bills, and even increases your property's value.
In conclusion, regular plumbing maintenance is not just a nice-to-have—it's a must-have for the longevity of your plumbing system and the health and comfort of your home. If you're in Rancho Cordova, CA and in need of a reliable plumber for regular maintenance checks, Go Pro Plumbing is just a phone call away.
When it comes to maintaining the health of your plumbing system, you need a service provider that offers comprehensive solutions. Go Pro Plumbing doesn't just offer a wide array of services but also ensures top-notch quality and efficiency.
Residential Plumbing Services
As a homeowner, you're bound to encounter a variety of plumbing issues. Whether it's a stubborn clog, a leaky faucet, or a malfunctioning water heater, these problems can disrupt your day-to-day activities and even lead to more serious issues if left unchecked.
Go Pro Plumbing offers a range of services that cater to these residential problems. They provide efficient solutions for drain cleaning, slab leak detection and repair, water heater repairs, and toilet repairs. With their team of professional plumbers, you can rest assured that your home's plumbing system is in capable hands. They prioritize prompt service, understanding how every minute counts when dealing with a plumbing issue.
Commercial Plumbing Services
The success of your business can be affected by the state of your plumbing system. Plumbing issues can disrupt operations and result in unnecessary costs. This is why Go Pro Plumbing extends its services to commercial clients in Sacramento. From routine maintenance to emergency repairs, their team is committed to ensuring your business operations are not interrupted by plumbing issues.
Their commercial services include commercial drain cleaning, water line repair, gas leak repair and re-piping services, and more. They understand the unique requirements of commercial plumbing systems and are dedicated to providing reliable and effective solutions.
Unique Selling Proposition: Outstanding Customer Service and Same-Day Service
But what sets Go Pro Plumbing apart from other service providers? Two things: their commitment to outstanding customer service and their unique selling proposition of same-day service.
Go Pro Plumbing understands that dealing with a plumbing issue can be stressful. That's why they go above and beyond to ensure that the client's experience is as smooth and stress-free as possible. From the initial contact to the final follow-up, they provide a service that is efficient, professional, and respectful of your time and property.
Additionally, in the world of plumbing, time is often of the essence. A small leak left unchecked can quickly escalate into a major issue. That's why Go Pro Plumbing offers same-day service. Their team is on standby, ready to respond to your call and provide immediate assistance, minimizing disruption to your day and preventing further damage to your property.
In summary, Go Pro Plumbing provides comprehensive residential and commercial plumbing services, all delivered with exceptional customer service and the promise of same-day service. Whether you're a homeowner or a business owner in Northern California, you can rely on Go Pro Plumbing for all your plumbing needs.
Customer Reviews and Testimonials
When it comes to choosing a plumbing service, nothing speaks louder about the quality of service than the experiences shared by previous customers. For Go Pro Plumbing, the wealth of positive reviews and testimonials serves as a testament to their professionalism, reliability, and dedication to customer satisfaction.
Positive Experiences from Go Pro Plumbing Customers
Many homeowners in Rancho Cordova, CA, have lauded Go Pro Plumbing for their prompt, efficient, and professional services. Mike Accer, a satisfied customer, shared his experience with the company saying, "Go Pro Plumbing helped me and my family in an emergency situation and got the job done quickly. I will use them again for future plumbing issues." This feedback underlines the company's commitment to providing outstanding same-day plumbing service.
Meanwhile, business owners also appreciate Go Pro Plumbing's immediate response and efficient service. Commercial clients often require immediate plumbing solutions to avoid disruption to their operations, and Go Pro Plumbing has consistently proven to be up to the task. While specific testimonials from commercial clients were not available, the overall positive feedback and reputation of the company suggest a high level of satisfaction among business owners.
How Go Pro Plumbing Has Helped Solve Common Plumbing Issues
Go Pro Plumbing's success in swiftly addressing common plumbing issues is well-documented in the stories shared by satisfied clients. Whether it's a clogged drain, a leaky faucet, or a malfunctioning water heater, the company's expert team has consistently provided effective solutions.
One notable example is the story shared by Mike Accer, who praised the company for their swift response and effective solution during a plumbing emergency. This is just one of many instances where Go Pro Plumbing's same-day service has minimized inconvenience to the client and promptly resolved the issue at hand.
In conclusion, the positive reviews and testimonials from clients showcase Go Pro Plumbing's commitment to delivering high-quality, professional, and efficient plumbing services in Rancho Cordova, CA. If you're in need of a reliable and quick-response plumbing service, the phone number of Go Pro Plumbing is undoubtedly the one to call.
Contact Information for Go Pro Plumbing
When you're dealing with water heater issues, clogged drains, or any other plumbing emergencies, time is of the essence. That's why having a trusted plumber's contact information at your fingertips is crucial. Go Pro Plumbing makes it easy for you to reach out to them, ensuring you receive reliable plumbing services in Rancho Cordova, CA, as quickly as possible.
Phone Number and Availability
The easiest and quickest way to schedule a service with Go Pro Plumbing is by calling their contact number 916-249-1646. Whether it's a leaky faucet that needs fixing or you're facing a plumbing emergency that can't wait, they're open 24/7/365. This means you can count on them to provide prompt service any day, any time. Plumbing issues don't stick to a 9-5 schedule, and neither does Go Pro Plumbing.
Other Ways to Contact Go Pro Plumbing
Apart from the phone, you can also reach out to Go Pro Plumbing online. If you have any questions or concerns, you can fill out the contact form on their website. Alternatively, if you'd like to schedule a service, you can do so online by clicking the 'Schedule Service' button.
One of Go Pro Plumbing's expert technicians will then get in touch with you shortly. This method is perfect for non-emergency plumbing maintenance or if you're planning a bathroom remodeling or water conservation project and need expert advice.
The company's physical address is 1108 Pond View Dr, Folsom, CA 95630. This is ideal if you're in the vicinity and prefer to discuss your plumbing needs face-to-face with a professional.
Whether you choose to call, fill out the online contact form, or visit their location, Go Pro Plumbing's team of experienced plumbers in Rancho Cordova, CA, is ready to assist you with your plumbing needs. With Go Pro Plumbing, you can be confident that you're getting the highest level of service from professionals who truly care about your satisfaction.
Conclusion
Recap of Go Pro Plumbing's Services and Commitment to Customer Satisfaction
In your journey to find trusted plumbers in Rancho Cordova, CA, you've learned that Go Pro Plumbing stands out in terms of experience, range of services, and commitment to customer satisfaction. Go Pro Plumbing offers a broad array of both residential and commercial services, tackling everything from clogged drains and leaky faucets, to water heater issues and low water pressure. They even offer unique offerings such as water conservation services and water recirculation services.
Go Pro Plumbing's commitment to customer satisfaction is evident in their same-day service and 24/7 emergency availability. They understand that plumbing issues don't follow a 9-5 schedule, so neither do they. With 20+ years of experience and consistently great customer reviews, Go Pro Plumbing has proven to be a reliable choice for those in need of expert plumbing services.
Encouragement to Contact Go Pro Plumbing for Reliable Plumbing Services in Rancho Cordova, CA
Remember, regular plumbing maintenance can save you from major headaches down the line. By addressing small issues early and keeping your system maintained, you can avoid costly replacements and enjoy reliable plumbing for years to come.
If you're a homeowner or business owner in Northern California and you're dealing with a plumbing issue or want to set up regular maintenance, don't hesitate to reach out to Go Pro Plumbing. Whether it's a sudden emergency or a minor problem, they're ready to help and assure you of prompt and effective service.
You can contact Go Pro Plumbing at their phone number 916-249-1646 at any time for reliable and professional plumbing services. Their team is always ready to offer you the peace of mind that comes with knowing your plumbing is in good hands. Don't let plumbing issues get in the way of your day, call Go Pro Plumbing today!